Meet Your Belchertown Dentist
Mark D. Medaugh, DMD
Dr. Medaugh, better known as Dr. M, studied painting and ceramics at Bates College before earning his DDS from the University of Pennsylvania as a Pierre Fauchard Scholar. Coming from a family of dentists and doctors, he has a deep respect for the time-honored traditions of healthcare, including the one-on-one relationship doctors have with their patients.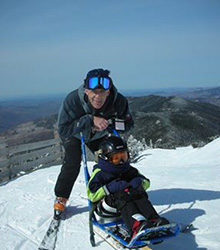 What's more, Dr. M is dedicated to the art and science of dentistry, particularly when it comes to cosmetic and restorative care. He loves working with patients to create a more beautiful or functional smile and works with the highest quality materials and labs.
Dr. M is married and has four children. He's also an avid skier and gearhead. Ask him about mountains, cars, or air conditioners and he'll never stop talking. Dr. M also loves dogs. When he's not helping patients, he enjoys fixing things and riding his bike.
Professional memberships:
American Dental Association
Massachusetts Dental Association