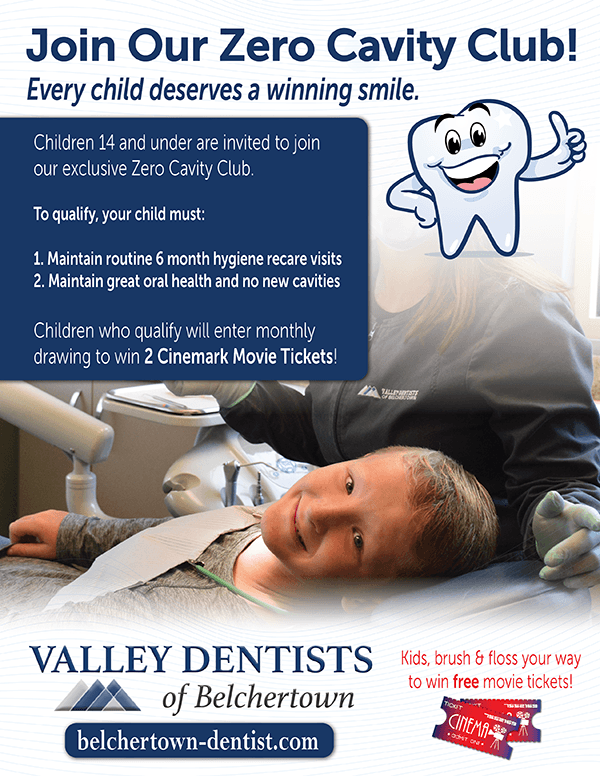 Children 14 and under are invited to join our exclusive Zero Cavity Club.
To qualify, your child must:
Maintain routine 6 month hygiene recare visits
Maintain great oral health and no new cavities
Learn More
Belchertown Pediatric Dentistry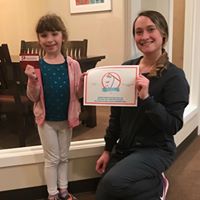 When you are searching for a children's dentist in Belchertown, MA, you need to be certain that the oral health professional you choose is highly trained, gentle, and experienced. At Valley Dentists of Belchertown, Dr. Medaugh and his team welcome even the youngest smiles in your family, offering an all-encompassing selection of pediatric dentistry solutions customized to suit your son's or daughter's unique oral health needs.
A Full Menu of Children's Dentistry Services
Little smiles require special care. Though it is true that primary teeth (baby teeth) will eventually fall out, they need just as much attention as the permanent teeth that will one day replace them. They serve as the placeholders for adult teeth, and their health is important from the moment they erupt at around the age of six months. In addition to brushing, flossing, and using a mouthwash at home, regular pediatric checkups and cleanings are a must for healthy teeth and gums. Our pediatric dentistry services in Belchertown, MA include:
Periodic exams and thorough cleanings
Dental sealants to ward off decay in hard-to-reach places
Fluoride treatments to bolster the strength of tooth enamel
Dental fillings for cavity repair
Custom athletic mouthguards for kids who play contact sports
Patient education for a strong home hygiene routine
Because we know that every child is different, we'll always take the time to get to know your son or daughter personally so that we can provide the most customized care possible. We want to become your family's trusted oral healthcare home for years to come.
A Belchertown, MA Children's Dentist You Can Trust
With a family full of dentists and doctors, Dr. Medaugh firmly adheres to the highest standards of care and instills the same values in the members of his dedicated team. Fostering long-lasting relationships with his patients is critical to him, and he treasures every moment he gets to spend caring for each and every one of them. This is particularly true for children, as they are just beginning to understand the importance of caring for their teeth and gums. We want to become your trusted partners in your child's continuing journey toward a future filled with healthy, happy smiles.
Schedule Your Child's Visit Today
Dr. Medaugh's entire practice is founded upon the belief that the families of Belchertown, MA deserve the very best in dental care and technology, all within an environment that is warm and welcoming. We can't wait to welcome you and your children to our state-of-the-art practice and to show you what a difference our commitment to quality truly makes.
Contact us today to learn more about our pediatric dentistry services and to schedule an appointment for your son or daughter. Our family-friendly dental office in Belchertown proudly serves children, teens, and adults in the surrounding areas of Palmer, Amherst, Hadley, Gilbertville, Warren, Ludlow, Granby, Ware, Hardwick, and beyond.