Porcelain Veneers in Belchertown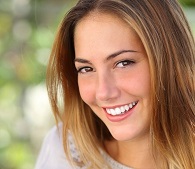 Looking for an easy way to fix your smile imperfections? Porcelain veneers from Valley Dentists of Belchertown may be your answer. Porcelain veneers can address many cosmetic dental issues at once including teeth that have developed poor color, shape, contours, or alignment. Porcelain veneers can also correct fractured teeth, gaps in-between teeth, and minor malocclusion problems. For patients with tooth discoloration and staining that won't respond to professional bleaching, porcelain veneers may be the only viable option. You can make an appointment with Dr. Medaugh today to discover how a new set of porcelain veneers could instantly transform your smile.
What Are Porcelain Veneers?
Porcelain veneers are actually thin shells of porcelain that mimic the natural look of teeth. Porcelain veneers can also restore the strength and resilience of your natural tooth enamel.
How Are Porcelain Veneers Placed?
Porcelain veneers are comprised of several thin ceramic layers followed by an adhesive layer. The bond between your original tooth and porcelain veneer is permanent. To apply your veneer, Dr. Medaugh must remove a minimal amount of your tooth enamel, usually less than a millimeter. This will create room for the porcelain veneer to fit over your natural tooth to precisely restore functioning. A special resin is placed between your tooth and the porcelain veneer. The veneer is then hardened using a curing light. The natural translucence of the material will look even better than your originally healthy tooth.
Are Porcelain Veneers Right For You?
Porcelain veneers are individually sculpted for the unique preferences and needs of each patient. The bond is so accurate that it is nearly impossible to tell the difference between a porcelain veneer and a natural tooth. However, unlike your natural teeth, custom-crafted porcelain veneers will resist coffee and tea stains because they are made of high-tech, non-porous materials. Unlike dental crowns, with porcelain veneers, your natural teeth remain intact with only a minimal amount removed to fit the veneer. Porcelain veneers can make the most discolored teeth appear bright white again, and can also be used as an "instant orthodontics" solution to cover up turned or twisted front teeth or fix small overlaps and gaps.
Belchertown Porcelain Veneers Appointments
Whether your cosmetic concerns are large or small, porcelain veneers may be the perfect fit. Make an appointment with Dr. Medaugh and the experienced team at Valley Dentists of Belchertown today for your porcelain veneers consultation. Dr. Medaugh proudly restores smiles throughout Belchertown, MA, Ware, Granby, Ludlow, Warren, Hardwick, Gilbertville, Hadley, Amherst, Palmer, and the surrounding communities.