October 3, 2021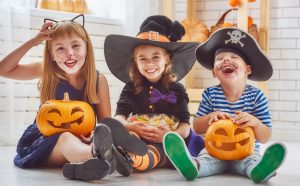 Did you know tooth decay is the most chronic childhood disease? Although it's preventable, it's more prevalent than childhood asthma. You can help combat tooth decay in the community with a little creativity this Halloween. Instead of passing out sugary goodies to trick-or-treaters, here are 10 Halloween candy alternatives to support cavity-free smiles.
1. Slime
Although it might be your worse nightmare, children love slime. The gooey fun can be found in a variety of color options. You can buy individual containers, or get the family involved in making your own.
2. Vampire Teeth
No one can resist a scary pair of vampire's teeth, especially if they glow in the dark. They are sure to make trick-or-treaters of all ages leave your door smiling.
3. Slinkies
Slinkies are timeless, providing hours of entertainment. They are a great non-candy alternative that comes in several Halloween-themed colors and patterns.
4. Glow Bracelets
All children love glow bracelets. Not to mention, their parents will appreciate your creativity because their children will be easier to see as they race to the next doorbell.
5. Bubbles
Hand out party-sized bubbles and small stickers. Children can decorate the containers as they wind down for the evening.
6. Mini Water Bottles
In the rush to get out the door, many families forget to grab water. You can ensure everyone stays hydrated by handing out mini water bottles. You can also include flavored drink packets for a sweet treat.
7. Bouncy Balls
Nothing quite compares to a bouncy ball. You can keep the Halloween spirit going long after the holiday with spooky-themed bouncy balls. Be sure to get a few larger sizes for the safety of young trick-or-treaters who might mistake it for candy.
8. Key Chains
Children like decorating their backpacks and clothing with cool key chains. You can offer a variety of Halloween-themed options for children to find their new favorite fashion accessory.
9. Slap Bracelets
You probably remember slap bracelets from your childhood, but they are popular once again. They are a great way to keep the holiday alive long after a night of trick-or-treating ends.
10. Stickers
Kids love stickers, often adding them to their water bottles and school notebooks. You can buy sheets of Halloween stickers and cut them into individuals to place in goody bags.
Encourage Healthy Smiles for Halloween
Don't forget about your own smile by choosing healthier snacks instead of candy and treats. If you can't ignore your sweet tooth, reach for a piece of chocolate because it is easy to remove from the teeth. Don't forget to brush and floss before heading to bed to ensure your Halloween treats don't come back to haunt your smile.
About Dr. Mark D. Medaugh
Dr. Medaugh earned his dental degree from the University of Pennsylvania before continuing his education in cosmetic and restorative care. As a member of the American Dental Association and the Massachusetts Dental Association, he has the qualifications you can trust. Contact our office today to schedule an appointment.
Comments Off on 10 Halloween Treats for Cavity-Free Smiles
No Comments
No comments yet.
RSS feed for comments on this post.
Sorry, the comment form is closed at this time.