June 18, 2019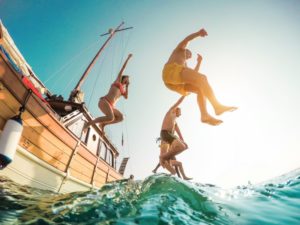 Summer is the season where you have plans nearly every weekend. Between your upcoming weddings, graduation parties, road trips, and family get-togethers, you're going to be talking to a lot of new people. While you love socializing, being embarrassed by your smile distracts you from getting to form great new connections. Luckily, your dentist in Belchertown can help you get the most out of this season with three cosmetic solutions. Read on to learn about how you can invest in your smile.
Feel Like A Hollywood Star With Porcelain Veneers
No matter whether your smile is suffering because of discoloration, cracks, chips, or gaps, porcelain veneers can practically take care of it all. They are custom-crafted durable porcelain shells that cover the visible portion of your teeth. They're specially designed to conceal imperfections all while looking completely natural.
Typically, this process takes place over the course of three visits with your dental professional. During your consultation, your dentist will discuss your goals with you to help determine that veneers are the right procedure for you. They'll then prepare your teeth by removing a small portion of natural enamel, so the veneers won't protrude from your mouth and will lay flush with the rest of your smile. They'll then make impressions of your teeth to create your custom-made veneers. Once they arrive from the dental lab, they'll bond them, polish them, and send you on your way!
Have The Summer Sun Jealous Of Your Bright Smile After Professional Teeth Whitening
Stained teeth are an unfortunate but natural result of aging, taking certain medications, and consuming stain-causing foods and drinks. Over-the-counter teeth whitening kits deliver big promises, but you can never be sure what kind of results to actually expect. With professional at-home teeth whitening, you get high-quality and fast results you can count on.
In your at-home professional kit, you'll receive custom-fitted trays along with concentrated professional-grade whitening gel. Whenever you have free time, and in the comfort of your own home, you can use these as instructed and begin noticing brilliant and fast results.
Enjoy All Of Your Favorite Family Reunion Foods With Invisalign
If you've been struggling with a crooked or misaligned smile since you were young, it has most likely impacted your self-esteem. As an adult, you feel like you've missed out on the opportunity to get traditional braces because the look of them will sacrifice your professional image. Luckily, Invisalign is a practically invisible system of high-quality plastic aligners that strategically and gently places pressure on your teeth to shift them into the ideal position.
The best news about this procedure is that, because they're removable, you won't have to worry about cleaning between brackets and wires, cutting foods out of your diet, or the cumbersome look and feel of metal in your mouth.
Enjoy having a grin that you're proud to show off in family pictures and unabashedly let shine when you're meeting new people this summer. The first step to investing in a happier smile is to schedule a consultation with your cosmetic dentist!
About the Author
Dr. Mark Medaugh values forming long-lasting connections with his patients and understanding their individual desires and needs. Because he studied painting and ceramics before earning his DDS from the University of Pennsylvania, he values the art and science involved with cosmetic and restorative dentistry. He enjoys watching patients leave his office with a smile that they're proud to show off. For questions or to schedule a consultation for a cosmetic service, visit Valley Dentists of Belchertown's website or contact 413-323-4335.
Comments Off on 3 Ways Your Dentist in Belchertown Can Renew Your Summer Smile
No Comments
No comments yet.
RSS feed for comments on this post.
Sorry, the comment form is closed at this time.