December 15, 2021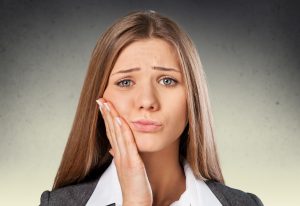 The biggest threat to your dental health is tooth decay. Despite being preventable, 92% of adults have had at least one in a permanent tooth. If you've had a cavity or two over the years, your dentist likely used dental fillings. Whether amalgam or composite, a filling is effective in treating the early stages of decay. Although they are durable, they can lose their bond with the tooth over time. If you've lost a dental filling, don't panic. Here are 5 things you should do until you can see your emergency dentist.
1. Call Your Emergency Dentist
A lost filling may not seem too concerning, especially if you're not experiencing any pain; however, it can lead to a big problem without any treatment. Contact your emergency dentist and explain the situation and any symptoms. They'll determine if you need a same-day appointment, or you can wait until there's an opening in the schedule.
2. Don't Chew with the Tooth
The integrity of your tooth will be compromised until the filling is replaced. Not only is it at risk of infection, but also breaks and fractures from its weakened structure. Your emergency dentist will recommend chewing on the opposite side of your mouth to keep food and bacteria away from it. It will also prevent additional damage by keeping pressure off the tooth.
3. Keep Your Mouth Clean
You'll want to step up your oral hygiene routine until after your filling has been replaced. Besides brushing and flossing, rinse your mouth with warm salt water after eating. It will remove any lingering food particles to keep your mouth clean.
4. Manage Any Pain
It's not unusual to have some sensitivity after losing a filling. You can avoid discomfort by skipping hot or cold foods and drinks, as well as those that are spicy or acidic. An OTC pain reliever can keep you comfortable, especially at night. You can avoid a throbbing toothache from keeping you awake by sleeping with your head elevated.
5. Use a Temporary Filler
Some pharmacies offer temporary filling material consisting of zinc oxide. It seals the tooth to keep food and bacteria out. Although this provides a quick fix, it is only meant to be a short-term solution. You still need to have the filling replaced.
Restore a Healthy Smile
Your dentist will examine your smile to create a personalized strategy to rehabilitate your tooth. They'll clean it and replace the filling to restore the health and appearance of your smile. Don't wait until it's too late to see your emergency dentist.
About Dr. Mark D. Medaugh
Dr. Medaugh earned his dental degree from the University of Pennsylvania as a Pierre Fauchard Scholar. He focuses on the art and science of dentistry to create healthy smiles for a lifetime. As a member of the American Dental Association and Massachusetts Dental Association, he has the qualifications you can trust. If you need an emergency dentist, contact our office today to speak with a member of our team.
Comments Off on How to Handle a Lost Dental Filling
No Comments
No comments yet.
RSS feed for comments on this post.
Sorry, the comment form is closed at this time.