October 11, 2019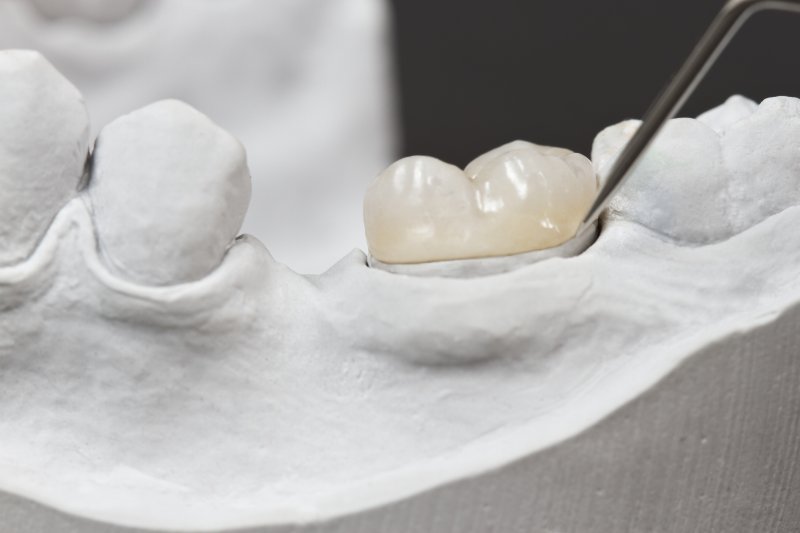 You just received your dental crowns, and you couldn't be happier with the results. The investment you've made has you so overjoyed that you can now walk around with greater confidence knowing your smile is complete. But what can you do to better protect your new prosthetics? Read on to find out how these 5 simple tips can keep you out of the dentist's chair for repairs and instead, enjoying life with a healthier, more beautiful smile.
Don't Slack on Your Oral Hygiene Routine
If you want to keep your smile looking and feeling its best, a regular oral hygiene routine in the morning and at night is the first step. You should be brushing your teeth twice a day for two full minutes. Using fluoride toothpaste can help prevent tooth decay and strengthen tooth enamel. If you're using a manual toothbrush, make sure to set a timer so you will brush your teeth the appropriate amount of time. Don't want to bother with a timer? Opt for an electric toothbrush with an automated timer.
It's also just as important that you keep your regularly scheduled dental checkups and cleanings, so your dentist can remove any built-on plaque and tartar and check for any signs of problem areas.
Make Your Gums a Priority
Your teeth aren't the only areas of your mouth that need protection, so do your gums. If your gums become diseased, this can negatively impact your dental crown. Since gum disease can cause gum recession, you could be faced with the reality that your crown will no longer fit properly or become more susceptible to harmful bacteria because of the receding gap that is now visible. When gaps occur, you are at an increased risk for tooth decay and the possibility that your crown could become loose or fall off.
Make sure you're flossing in-between your teeth each day to remove bacteria and lodged food particles. This will help prevent gum disease, but also remember to use an antimicrobial mouthwash to rinse away anything left behind that brushing and flossing missed.
Consider Every Crevice of Your Smile…Even Those You Can't See
Sometimes, brushing and flossing aren't enough to get into the hard to reach areas of your smile. In order to pay attention to all the small crevices in and around your teeth and gums, make sure you speak to your dentist in Belchertown about the right kind of interdental brushes that can be used to keep your crown clean.
Be Mindful of Excessive Wear and Tear
Teeth grinding is a real problem for many people, and the unfortunate aspect is that many don't even realize they're doing it. Grinding and clenching your teeth can be problematic for your dental crown, causing it to crack or break. If you suspect that you have a problem with bruxism (teeth grinding), talk to your dentist about wearing a mouthguard at night while you sleep. This will prevent your teeth from coming into contact with each other and protect from excessive wear and tear.
Watch What You Eat
Crunchy, hard, sticky, and sugary foods are not the best choices for a dental crown. Why? Because they can cause it to break or even pull away from your natural tooth. Nuts, raw vegetables, sugary candies, and sticky foods should be avoided at all costs. It's important that you opt for softer alternatives (i.e. oatmeal, steamed vegetables) or those that can be cut up into smaller, bite-size pieces.
You've made a worthwhile investment in restoring your smile, so why not take the appropriate steps to protect it? Talk to your dentist about additional ways to prevent damage to your dental crowns and enjoy your smiles for longer.
About the Author
Dr. Mark Medaugh earned his DDS degree from the University of Pennsylvania as a Pierre Fauchard Scholar. Having studied painting and ceramics during his undergraduate at Bates College, he is a dedicated dental professional who enjoys the art and science of dentistry, particularly when dealing with cosmetic and restorative treatment. For patients who are in need of dental crowns, Dr. Medaugh and his team will not only offer the highest quality materials but will also offer tips and suggestions on how to care for the crowns to prevent damage from occurring. To learn more about our services, contact us at (413) 323-4335.
Comments Off on 5 Ways to Protect Your Dental Crowns After You've Had Them Placed
No Comments
No comments yet.
RSS feed for comments on this post.
Sorry, the comment form is closed at this time.