April 14, 2018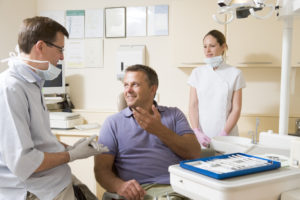 How did you pick your last dentist? Many patients answer this question by saying it was the one closest to their home or office or the office that took their dental insurance. Unfortunately, what we hear from a lot of these patients is that they weren't necessarily happy with this dental office, but they didn't really think that any other office would be better. Studies show that patients are more likely to keep up with their regular dental office visits when they have a good relationship with their dentist. Taking some extra time to find the right practice may dramatically increase your chances for a lifetime of healthy smiles.

Location & Office Hours
While we don't think the closest office is necessarily the right choice for every patient, it's important to have a dental office that is conveniently located so you're not driving out of your way. Office hours can also be important. We're all busy so finding a dental practice that offers a variety of hours to fit dental appointments into your schedule is essential.
Financing & Insurance Options
If you invest in dental insurance, you want to find an office that will process and file claims to maximize your benefits. You should also visit a practice where you feel comfortable discussing financing options. Many offices work with third party financiers to offer low and no interest financing plans to make advanced treatments more affordable
Comfortable Office Environment
This is the hardest thing to pin point, but some dental offices just feel more comfortable. If you're struggling to pick a dental practice, call to schedule a consultation visit. This will give you an opportunity to explore the dental office, get to know the team members, and experience for yourself what it's like to visit.
Credentials & Qualifications
You need to find a dentist who has the necessary qualifications to provide the dental care you need. Most dentists share their qualifications online and display certifications and degrees in the office. You should also feel free to call their office to ask about credentials.
Extensive Dental Services
Some dental offices only provide the most basic dentistry services, and they refer you out to other practices for any more advanced treatments. While visiting a specialist may be a good option for serious oral health issues, finding a practice that can accommodate the majority of your dental care makes maintaining your oral health easier.
Meet Dr. Medaugh
Belchertown dentist, Mark D. Medaugh, DMD, offers patients a wide range of dentistry services in a pain and stress free dental office environment. The Valley Dentists of Belchertown team is dedicated to making visiting the dentist a great experience for every patient we treat. If you're new to the area or looking for a new dental team, we hope you'll consider trusting our team with your oral health care needs. The Valley Dentists of Belchertown team members go the extra mile to deliver dental services that are both comfortable and effective. We love working in partnership with patients to achieve healthy, beautiful smiles and keep them for life. With a wide range of dentistry services, convenient office hours, and a caring team, we know you'll enjoy visiting Valley Dentists of Belchertown. Call our friendly dentistry team to schedule an appointment in our state-of-the-art, family-friendly dental office.
Comments Off on What Should I Look for When Searching for a New Belchertown Dentist?
No Comments
No comments yet.
RSS feed for comments on this post.
Sorry, the comment form is closed at this time.