January 27, 2016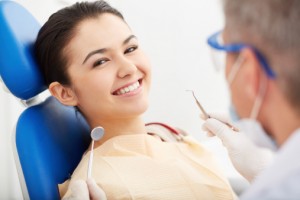 So if you only have to see your doctor once a year for a checkup, then why does your dentist want to see you twice a year? Well, your mouth is a busy place with millions of bacteria, some good and some bad. Harmful bacteria can cause a slew of troubles in a short amount of time. Therefore, in order to prevent problems, you should see Dr. Medaugh and his team at Valley Dentists of Belchertown regularly—and by regularly we mean at least every six months—so we can professionally clean your teeth and monitor your overall oral health.

We know you brush your teeth twice a day and floss at least once daily, but that really isn't enough to keep your teeth and gums healthy. The cleaning and examination we provide in our office augments your oral hygiene routine at home and helps to prevent more serious problems.
First of all, when we clean your teeth we can remove some extrinsic stains from the enamel surfaces of your teeth that no over-the-counter whitening toothpaste would be able to remove. We're sure you'll notice that your smile is brighter after one of our dental cleanings. In addition, while brushing is designed to remove the daily buildup of plaque on your teeth, no amount of brushing will remove tartar, which is hardened plaque.
At your Belchertown family dentist, one of our skilled and gentle hygienists will eliminate hidden plaque and tartar to help you avoid gum disease, a bacterial infection that cannot only affect your oral health, but your general health, too. The bacteria that cause gum disease—both gingivitis and periodontitis—have been linked to a number of bodily illnesses and diseases, such as Alzheimer's, heart disease, osteoporosis, and pregnancy complications.
Beyond cleaning your teeth and removing plaque, we also carefully examine your entire oral cavity during a checkup. We look at each one of your teeth to see if there are any signs of tooth decay, otherwise known as a cavity or dental caries. Depending on what we find, Dr. Medaugh may recommend a fluoride treatment or dental sealants to strengthen your teeth in the constant battle against decay.
In addition, we conduct a thorough oral cancer screening. Every year, this disease claims thousands of lives, but it is largely treatable and curable if found early.
Call Our Office Today
If it's time for you or another member of your family to have a dental checkup, then call the Belchertown dental office of Dr. Medaugh. We quality care daily throughout Belchertown, MA, Ware, Granby, Ludlow, Warren, Hardwick, Gilbertville, Hadley, Amherst, Palmer, and the surrounding communities.
No Comments »
No comments yet.
RSS feed for comments on this post.
Leave a comment