December 1, 2022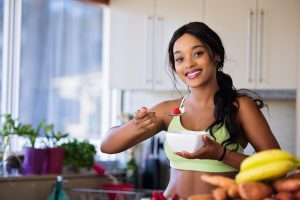 It's easy to turn the smile of your dreams into reality with porcelain veneers. Although there are more options than ever, veneers continue to rank among the top cosmetic procedures year after year. You can correct multiple issues simultaneously using a minimally invasive method that can last for decades with the proper care. Besides brushing and flossing, your dentist will recommend changing your diet to get the most from your investment. 
Eating with Temporary Veneers
Getting veneers will take a couple of appointments. Your teeth are prepared during your first visit, which involves removing a little enamel. Your dentist will take an impression of your mouth and send it to the dental lab. The lab will craft your veneers to fit your teeth like a glove, but it can take a couple of weeks. Your dentist will apply temporary veneers while you wait to protect your teeth. It also allows you to "try on" your new smile, but your temporary restorations won't be as strong as your permanent ones. As a result, your dentist will recommend skipping certain foods, including:
Hard or crunchy foods
Raw fruits and vegetables
Tough meats
Sticky or chewy candy
Toasted or crusty bread
Stain-causing foods and drinks
Although you might need to give up some of your favorite foods for a few days, there are still many tasty things you can enjoy, like:
Chicken
Eggs
Soft bread
Soft fruits and vegetables
Pasta
Eating With Porcelain Veneers
Once your veneers have been sent back to your dentist, you'll return to their office to have your temporary ones removed. Your final restorations will be more durable than the temporary veneers because they are made of high-grade porcelain, which is more resilient to staining and stronger; however, they aren't indestructible. Therefore, your dentist will recommend limiting:
Extremely hard foods, which can chip or crack veneers
Dark foods and drinks that can stain your underlying teeth
Tobacco and smoking
Alcoholic drinks because they can weaken the bonding material
Sugary foods and drinks to prevent cavities
Sticky foods that may pull your veneers off or cling to your teeth
Maintaining Your New Smile
Besides watching what you eat, good oral hygiene is vital to promote the lifespan of your new smile. Use nonabrasive toothpaste and a soft-bristled toothbrush to clean your teeth twice daily. Use high-quality floss to clean between each tooth every day. Your dentist will recommend breaking bad oral habits, like chewing on your fingernails or using your teeth to loosen bottle lids. Finally, don't forget to visit your dentist every 6 months for a cleaning and checkup. With a little attention, your dazzling smile will look its best for years.
About Dr. Mark D. Medaugh
Dr. Medaugh earned his dental degree at the University of Pennsylvania and has regularly continued his education to provide the most up-to-date services. He has the qualifications and reputation you can trust to achieve a healthy, beautiful smile. Contact our office today to request a consultation.
Comments Off on Will My Diet Change with Veneers?
No Comments
No comments yet.
RSS feed for comments on this post.
Sorry, the comment form is closed at this time.