April 12, 2020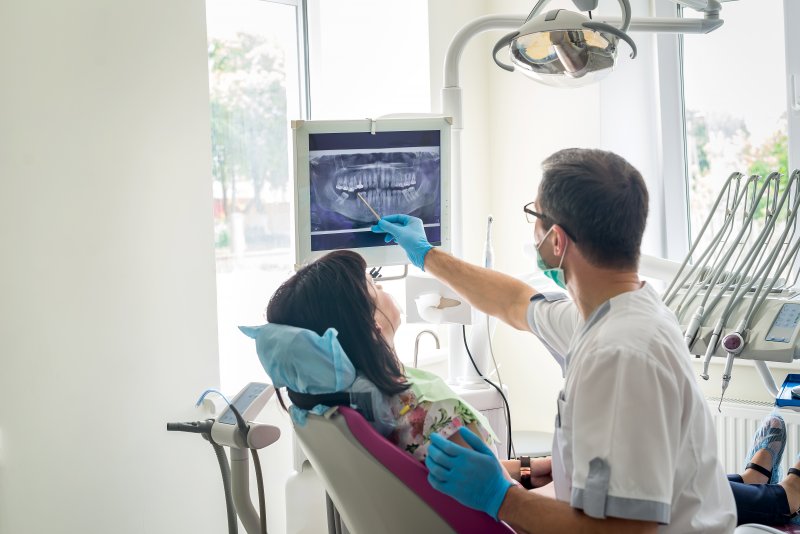 You've gone all day with a painful throbbing in your teeth. Though it hurts, you're trying to power through and wait it out. Due to COVID-19, most dental practices aren't open for their regular hours and you're hoping that the pain will just go away. Since you can't often see the cause of tooth pain, it can be difficult to tell when it's time to bite the bullet and schedule an appointment with an emergency dentist.
Even though most dental practices are currently not seeing patients for regular appointments, they are still available and eager to help those having dental emergencies. Many emergency dentists are available for same-day appointments and will get you out of pain as quickly as possible. The following advice from an emergency dentist will help you to gauge when you should pick up the phone and make an appointment.
Common Dental Emergencies
Any kind of dental pain or atypical dental situation can be a scary experience. As a rule of thumb, any type of severe pain should be considered an emergency. Pain in your mouth can be triggered by a whole host of conditions and your dentist will be able to tell you what is causing it.
The Basics
While some sources of dental pain or trauma can be hard to pinpoint without the help of a dentist, some are no-brainers. If you've broken a tooth or have painful swelling in or around your mouth, you should be seen immediately. Swelling is often indicative of an infection in your mouth or an abscessed tooth. Also, if any of your dental work breaks or falls off, such as a crown, bridge, or denture, you'll want to be seen.
Loose Teeth
Teeth can become loose for many reasons, the most common of which is periodontal disease, also known as gum disease. Periodontitis is a progressive disease and causes teeth to become loose over a long period of time. However, if you have a tooth that becomes loose suddenly, it could be symptomatic of an infection or trauma. You'll want to get it looked at right away.
Blood or Puss
It is common for your gums to bleed a little bit if you don't floss regularly. When that bleeding is excessive or occurs at the slightest touch, it can indicate a much bigger problem. If you experience aching and swelling along with the bleeding, it is possible that you have advanced periodontal disease. Additionally, if you experience any sort of discharge coupled with a bad taste in your mouth, you may have an abscessed tooth that needs to be treated.
In summary, any type of severe dental pain, trauma, or abnormal symptoms should be seen immediately. Emergency dentists are equipped to deal with whatever your situation may be and will get you out of pain quickly and comfortably.
Dentists Are Here to Help
The dental office can be a source of anxiety for some people. This is especially true in the event of an emergency. Dentists understand just how stressful an emergency can be for you and take great care to make the experience as easy and relaxing as possible.
Even during the pandemic, dentists are here to help with your emergencies however they can. From broken teeth to severe pain, these specialists are uniquely qualified to seamlessly get you back to living your best life. Even if you aren't sure if you are having an emergency, call your emergency dentist's office and they will be happy to help.
About the Author
Dr. Mark Medaugh loves getting his patients out of pain. A graduate from the University of Pennsylvania as a Pierre Fauchard scholar, he has spent decades continuing his education to provide the best dentistry available. He views dentistry as an art and does not stop until he and his patient agree that the job has been done perfectly. At Valley Dentists of Belchertown, Dr. Medaugh understands that dental emergencies are stressful, and he takes care to get his patients out of pain quickly. If you think you may be having a dental emergency, he and his team are you for you via email or a phone call at (413) 289-5113.
Comments Off on Call the Doctor! – How to Tell If You Are Having a Dental Emergency
No Comments
No comments yet.
RSS feed for comments on this post.
Sorry, the comment form is closed at this time.