November 11, 2017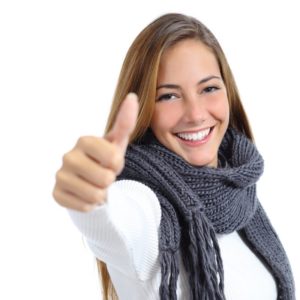 One of the best gifts you can give yourself this holiday season is a new, bright smile. If you've felt less than proud of what your teeth have to offer, consider meeting with your cosmetic dentist in Belchertown. Your dentist is here to explain how a simple gift of teeth whitening, porcelain veneers, or another cosmetic treatment can help you feel great about yourself for the whole new year!
Cosmetic Dentistry Can Change Your Life for the Better
When you have a discolored, crooked or misaligned smile, you could be affecting your oral and mental health without even realizing it. Crooked teeth gather bacteria in hard-to-reach areas, weakening tooth enamel in those areas. Misaligned teeth may also be interfering with a healthy bite and TMJ functionality. Discolored teeth may cause you to have less confidence in yourself. Look at all the other positive aspects that come from fixing your smile:
You will lessen your risk for dental emergencies with straighter teeth.
Decrease your chances for experiencing headaches, mouth pain, and neck pain.
Straight, beautiful, bright teeth can improve your overall happiness.
You'll have healthier gums without irregular spacing.
It will be easier to clean all the areas of your mouth thoroughly.
An aligned bite prevents abnormal tooth wear.
Common Types of Cosmetic Dentistry
Here are some of the most popular cosmetic dentistry treatments and procedures that can help you to be proud of your teeth once again.
Professional teeth whitening
High-quality bleaching materials can be used in the office or at home to achieve a brighter smile that patients can't stop showing off. Most practices offer in-office treatments like Kor whitening or Zoom! for quick, effective whitening. There are typically take-home options available as well for more gradual results with less tooth sensitivity.
Porcelain Veneers
Discoloration, chips, gaps, cracks, and worn teeth are just some of the challenges that can prevent you from feeling proud of your smile. Thankfully, your dentist has the extensive resources, training, and experience to craft the perfect personalized veneers for you. These custom, high-quality restorations are designed to bond over the front surface of your existing teeth, correcting a variety of aesthetic imperfections all at once rather than undergoing countless treatments and procedures.
Cosmetic Bonding
Sometimes, you need a more cost-effective solution to your cosmetic issues.  Cosmetic bonding from your local dentist is an affordable option that can repair the aesthetics of teeth quickly and conveniently. Most practices utilize composite resin to create a natural-looking, seamless result that feels and functions just like your natural teeth.
You've started buying everyone else's Christmas gifts, but have you considered what you're going to give yourself?  Contact your local cosmetic office to learn more.
---
Meet Your Dentist
For Dr. Medaugh, the best part of his job is having the opportunity to positively affect patients' lives by helping patients boost their self-esteem. If you want to give yourself the best gift—the present of improved confidence—you should speak to Dr. Medaugh about our cosmetic services. Feel free to contact our office for more information.
Comments Off on A Cosmetic Dentist in Belchertown Can Give You a Great Gift!
No Comments
No comments yet.
RSS feed for comments on this post.
Sorry, the comment form is closed at this time.