February 27, 2020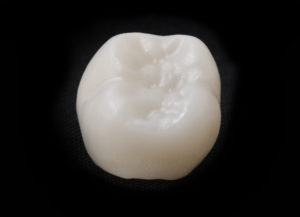 You're sitting in the dentist chair as your dentist inspects your teeth during your checkup. After looking at your X-rays, they mention that your tooth is severely decayed and will need to be removed. Then, they say you need a dental bridge to replace it after the tooth has been extracted. You're confused—is a bridge like a crown? How are they different? In this blog post, you'll learn more information about bridges and dental crowns in Belchertown, so you can make the right choice for your smile.
What Is a Crown?
A dental crown is a single prosthetic tooth that covers the top portion, or the part that is visible above the gumline. Before the crown can be placed, the tooth must be prepared, meaning a certain amount of the tooth's structure needs to be removed to make space for the crown. When the crown is attached on top, it blends in with the rest of the teeth around it and functions just like a natural tooth.
Dental crowns placed toward the front of the mouth are typically made completely of porcelain for the most lifelike appearance. For back teeth, which aren't as visible, some dental offices use porcelain fused to metal for added durability.
When Is a Crown Needed?
You may need a dental crown under the following circumstances:
Your tooth becomes compromised from decay or an injury, and it needs extra support.
You undergo root canal therapy and need to restore the tooth.
You have a small or misshapen tooth and want to correct its appearance.
You need to restore a single dental implant.
What Is a Bridge?
A dental bridge is a restoration that replaces one to three missing teeth that are right next to each other. It is made of three to five prosthetic crowns that are fused together with the crowns on either end hollowed out. The two healthy teeth that surround the missing ones are reduced, and the bridge is placed on top of these anchoring teeth for stability.
When Is a Bridge Needed?
If you are missing one to three consecutive teeth and this gap has a tooth on either side, a dental bridge can be used to complete your smile. It's also important to note that a bridge can also be attached to two dental implants to replace three to six missing teeth in a row.
What Is the Right Choice for Me?
If you're still unsure which restoration or replacement would help your unique smile best, don't worry. You don't have to make this decision alone. Your dentist can review your treatment options and explain their benefits, guiding you to the perfect solution for your smile.
In the end, no matter what happens to your smile, it can be repaired using realistic restorations like a crown or bridge. With these options available, you can continue to bite, chew, speak, smile, and laugh for many years to come without feeling self-conscious.
About the Author
Dr. Mark Medaugh, or Dr. M as his patients like to call him, earned his DDS at the University of Pennsylvania as a Pierre Fauchard Scholar. He combines art and science to give his patients truly beautiful yet functional restorations. If you would like to schedule an appointment with Dr. M, you can contact him at his practice Valley Dentists of Belchertown.
Comments Off on Crown or Bridge: Do You Know the Difference?
No Comments
No comments yet.
RSS feed for comments on this post.
Sorry, the comment form is closed at this time.