January 11, 2022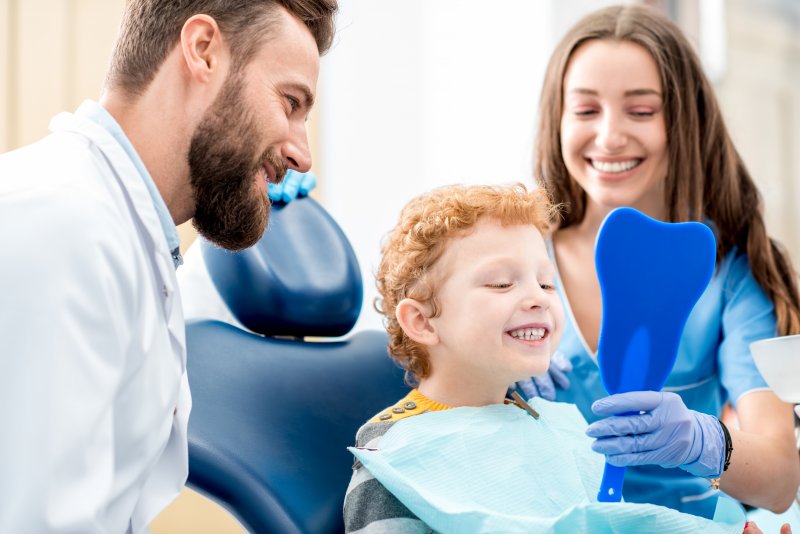 According to the National Institute of Dental and Craniofacial Research, 42% of children between the ages of two to 11 have had cavities in their primary teeth. Dental issues like this can negatively affect the appearance and function of their teeth. Brushing twice and flossing once per day is a key part of preventing decay, but your child may need some extra help keeping their smile in good shape. That's where dental sealants come in! Read on to learn the answers to five frequently asked questions about this preventive treatment.
#1: What Are Dental Sealants and How Do They Work?
A dental sealant is a thin coating made from plastic or other dental materials. They act as a barrier to shield your little one's teeth from food particles, bacteria, and other debris. Applying dental sealants over the chewing surfaces of their molars significantly reduces their chances of tooth decay, and the process only takes 30 minutes to complete.
#2: Does Getting Dental Sealants Hurt?
Dental anxiety is often caused by the fear that a procedure is going to be painful, so it's no surprise that this is a commonly asked question. Fortunately, dental sealants are completely painless! Once your child's pediatric dentist or hygienist has finished cleaning the tooth or tooth receiving the sealants, it will be rinsed off and dried. The sealant will then be painted over the chewing surface of the tooth. Finally, your dentist will use a low-heat light to harden the material and complete the process.
#3: Who Can Get Dental Sealants?
Both children and adults can benefit from dental sealants, but the sooner they are placed, the better. That's why they're more common among younger patients. If you're an adult who's interested in getting dental sealants, speak with your dentist to determine if they're a good option for your smile.
#4: How Long Do Dental Sealants Last?
With proper care, dental sealants can last 5 years or longer. Helping your child implement a good dental hygiene routine of brushing twice per day for two full minutes and flossing once per day will help their treatment last. You should also encourage them to avoid unhealthy habits like chewing on ice cubes and using their teeth to open things.
#5: My Child Has Dental Sealants – What Else Can I Do to Protect Their Teeth?
Along with having their teeth sealed, you can also help your little one keep their smile decay-free by implementing a solid oral hygiene routine at home. Make sure they use a soft-bristled toothbrush to avoid enamel damage and toothpaste containing fluoride to strengthen their pearly whites. Additionally, schedule dental visits every six months for checkups and cleanings, and feed them a balanced diet of lean meats, fresh fruits and veggies, and fat-free or low-fat dairy products.
With the above information, you should now have all the information you need about how dental sealants work. Speak with your child's pediatric dentist about whether they're a candidate for them so they can maintain a healthy, happy smile!
About the Practice
Led by Dr. Mark D. Medaugh, the compassionate team at Valley Dentists of Belchertown aims to help your little one keep their teeth healthy and functioning their best. They take pride in providing parents and children alike with a safe, comfortable environment where they can receive the care they need. They offer effective dental sealants to protect your little one's teeth from decay so they grow up to have strong, healthy, and beautiful smiles. Call Valley Dentists of Belchertown at (413) 323-4335 or visit their website for more information on sealants or to schedule an appointment.
Comments Off on 5 Common Questions About Dental Sealants
No Comments
No comments yet.
RSS feed for comments on this post.
Sorry, the comment form is closed at this time.