April 11, 2017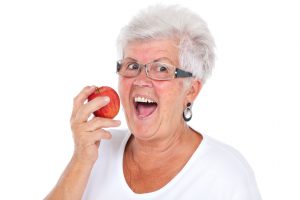 Your teeth are designed to last a lifetime with the proper care. Unfortunately, tooth decay, gum disease, or injury to the mouth can lead to tooth loss. No matter the cause, you need an effective form of tooth replacement to restore your oral health and functions. Among the most convenient options to replace missing teeth involve dentures or partial dentures. Depending on your severity of tooth loss, you may be a candidate. As your dentist in Belchertown, Dr. Medaugh offers the solutions you need to replace missing teeth.

Benefits of Replacing Teeth
Every tooth in your mouth has an important role in your oral and overall health. When even one tooth is lost, you can suffer significant complications if the tooth is not replaced. Not only does an incomplete smile impact your confidence, but your dental health. When a tooth is not replaced, your remaining natural teeth lose support. Over time, this causes the teeth to shift, which can lead to the eventual loss of the adjacent teeth. Not to mention, the lack of support causes changes in your facial structures.
When you do not have all your teeth, your ability to eat decreases. As a result, you may develop dietary restrictions. This can cause nutritional deficiencies, which can significantly decrease your overall health. To protect your health, smile, and quality of life, you need to replace your missing teeth.
Candidate for Partial Dentures
Partial dentures consist of replacement teeth that are attached to a gum-colored plastic base. They are removable, yet fill the gap of the missing teeth. The replacement teeth are attached to a metal framework, which holds the device in place by connecting it to adjacent teeth.
To benefit from partial dentures, you need to have several teeth missing in a row, but still have a few remaining natural teeth. Your remaining natural teeth must be healthy in order to support the device. In some cases, dental crowns may need to be attached to adjacent teeth.
Candidate for Full Dentures
Full dentures replace an entire arch of teeth. The prosthetic teeth are attached to a plastic, gum-colored arch, which is held in place using a denture adhesive. This is often the most affordable and convenient options to replace a full arch of teeth.
Generally, everyone with complete tooth loss on one or both arches are candidates for dentures. However, those who have periodontal disease or uncontrolled diabetes may not be candidates. The risk for infection can increase if dentures are used. We will need to perform a consultation to ensure you are a candidate for complete dentures.
Regain a Complete Smile Today
At Valley Dentists of Belchertown, we strive to provide the solutions you need for oral health while promoting your quality of life. If you are suffering from tooth loss, we offer the options you need. After performing a consultation, Dr. Medaugh will determine which option will best meet your needs. He will create a customized treatment plan to restore your smile. Contact our office today to schedule your consultation.
Comments Off on Your Dentist in Belchertown for Full and Partial Dentures
No Comments
No comments yet.
RSS feed for comments on this post.
Sorry, the comment form is closed at this time.