December 8, 2017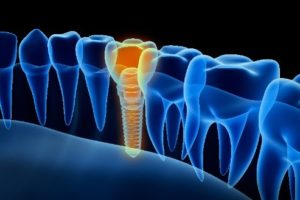 Every tooth in your mouth has an important role for promoting your oral health and functions, like your ability to chew and speak. Not to mention, the appearance of your smile is vital to your self-esteem and how others from their first opinion about you. Unfortunately, the American College of Prosthodontics estimates that 120 million Americans are missing at least one tooth. If you are among those suffering from tooth loss, you need an effective solution to fill the empty space. Your dentist near Amherst can help you regain a complete smile with a predictable and reliable solution. With dental implants, you will benefit from the next best thing compared to your natural teeth.

What are Dental Implants?
Dental implants have quickly become the preferred choice to treat tooth loss because they can potentially last for a lifetime with the right aftercare, like maintaining your oral hygiene. In fact, they have over a 95% 10-year success rate. In addition, they are the only option to replace both the root and crown of a tooth, which also helps to preserve your bone density.
A biocompatible titanium post is surgically placed into the jawbone. Your body will naturally fuse to it as it stimulates new bone growth. This not only provides a secure and sturdy foundation for the replacement tooth, but also allows it to potentially remain in place forever. After the jawbone has healed, an abutment is attached to connect the custom-made dental crown.
With the jawbone fused to the post, you benefit from added security and function. In fact, when compared to traditional dentures, they have an increased biting force of over 70%. Not to mention, they will closely look and function like natural teeth.
Dental implants can be used to replace one or more missing teeth. They can even be used to replace an entire arch if you are a candidate for the procedure.
Am I a Candidate for Dental Implants?
Generally, if you have missing teeth and good oral health, you are a candidate for the procedure. However, to promote their long-term success, you will require diagnostic imaging to evaluate the density of your jawbone. If it is low, you may require additional procedures, like bone grafting.
Your risk factors for late-term implant failure will also need to be evaluated. This will involve discussing your medical history to ensure that there are no conditions that can hinder the healing process, such as bone or immune system disorders. Your oral hygiene and lifestyle habits will also be discussed to help to safeguard against infections and complications that can compromise the success of the treatment.
Where Can I Get Dental Implants?
If you are ready to invest in your self-esteem and quality of life with dental implants near Amherst, choose an experienced and qualified dentist to handle your procedure.
About Dr. Mark D. Medaugh
Dr. Mark D. Medaugh earned his DDS from the University of Pennsylvania. With a commitment to delivering high-quality care, he embraces the science of dentistry to promote optimal oral health using the latest advancements. If you are interested in dental implants, contact Valley Dentists of Belchertown to schedule your consultation.
Comments Off on Dentist Near Amherst Will Complete Your Smile with Dental Implants?
No Comments
No comments yet.
RSS feed for comments on this post.
Sorry, the comment form is closed at this time.