February 28, 2016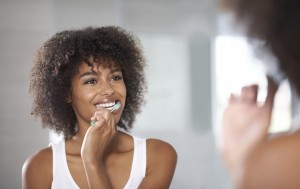 You do it every day and you've been doing it for years. So how could you be doing anything wrong? Well, it's not that you're brushing and flossing your teeth incorrectly, but you may not be doing so as well as possible. Dr. Medaugh and the rest of us at Valley Dentists of Belchertown are committed to helping you enjoy optimal oral health. For this reason, our Belchertown dental office would like to offer you some tips on the best techniques for brushing and flossing so you can keep your teeth and gums as healthy as possible.

One question we hear often is, "Should I brush or floss first?" That's up to you—all we ask is that you brush your teeth at least twice every day and floss daily. Most people find it convenient to brush once in the morning when they wake up and then again before going to bed. When it comes to flossing, however, anytime is the right time. If you're too tired at night, then floss in the morning or even after you've finished lunch. Flossing not only removes trapped food particles caught between your teeth, it also clears away plaque, a biofilm where the bacteria that cause decay and gum disease can hide.
For a Family Dentist, Belchertown Residents Trust Dr. Medaugh
When it's time to brush your teeth, make sure you have a soft tooth brush with rounded bristles and a toothpaste with fluoride. Place a small amount of toothpaste on your brush and set the brush against your gum line at about a 45 degree angle. Then, working in a circular motion, brush all the surfaces of your teeth—inside, outside and top—several times. After you've brushed all of your teeth, brush your tongue, too; bacteria can hide easily in your tiny taste buds.
Follow these steps to floss:
Start with about 18 inches of floss and wind most of it around your middle fingers, leaving about two inches at the middle that you can grasp with your forefingers and thumbs.
Gently guide the floss in between two teeth and then move the floss up and down and back and forth.
Press the floss against one tooth and then the other, taking care to floss all the way down to the gum line.
As you move around your mouth, advance the floss so you're always flossing with a clean section.
Call Our Office Today
In addition to effective brushing and flossing, regular checkups are imperative to your oral health. If you need to schedule an appointment, contact your Belchertown dentist.
No Comments »
No comments yet.
RSS feed for comments on this post.
Leave a comment