November 9, 2018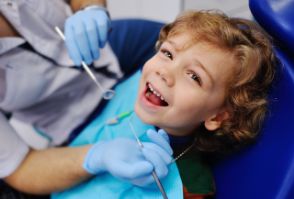 Getting dental care as a single adult is relatively easy and convenient, but if you have a family, there's a good chance they all have unique oral health care needs. Unfortunately, that means you can find yourself driving all over town to accommodate them! You may think that coordinating visits with a pediatric dentist, gum specialist, and general dentist is your only option, but there's an easier solution: Get great care for everyone (under the same roof) at a family dentist in Belchertown. Keep reading to learn more and find out how you can make life a little easier!
What Services Can a Family Dentist Provide?
By seeing a family dentist, everyone gets comprehensive, high-quality care at one office. Here are some examples of the services a family dentist provides:
Pediatric – It goes without saying that children have different oral health care needs than adults. Kid-friendly dental care means specialized services like sealants, fluoride treatments, and athletic mouthguards done in a friendly atmosphere to set kids up for getting fear-free dental care for life.
Periodontal (Gum) Care – If you have gum disease, you don't have to go to a separate specialist's office. Although a dentist may recommend a specialist for patients with severe or advanced gum disease, in most cases, you can get great care from the same family dentist who looks after your teeth.
Invisalign – If you'd like to straighten your teeth invisibly, you can get Invisalign at a familiar office with a dentist who knows your dental history.
TMJ – If you suffer from problems with your temporomandibular joint, you know how much it can impact your overall quality of life. Fortunately, you can get effective, non-surgical treatments from a family dentist to simplify your dental care.
Cosmetic Dentistry – Porcelain veneers, whitening, and tooth-colored fillings are just some of the procedures you can have done to get a beautiful smile you can be proud of.
How Can You Find a Great Family Dentist?
It's worth it to spend a little time looking at a dentist's website before scheduling your first visit. Here are some things to look for to get the right fit for your family:
Convenience – It's always helpful if you can make appointments when it's easiest for you with the option to schedule online.
Advanced Training – Make sure that a dentist has pursued advanced education in specialty areas such as TMJ disorders, Invisalign and cosmetic dentistry.
Modern Technology – When a dental office has invested in modern equipment and technology such as digital X-rays, you'll get faster, more comfortable and more effective treatment.
Modern life is busy, and everyone is looking for ways to simplify their schedule without sacrificing quality care and service. Once you've experienced the convenience of seeing a family dentist, you won't want to go back!
About the Author
Dr. Mark Medaugh (aka "Dr. M") is a family dentist in Belchertown who makes one-on-one care a priority with patients of all ages. He continually pursues advanced education in a wide variety of specialty fields so he can provide comprehensive care for the whole family. If you're looking for a family dentist and have any questions, he can be reached via his website or at (413) 323-4335.
Comments Off on Learn About the Benefits of Seeing A Family Dentist in Belchertown
No Comments
No comments yet.
RSS feed for comments on this post.
Sorry, the comment form is closed at this time.