October 7, 2022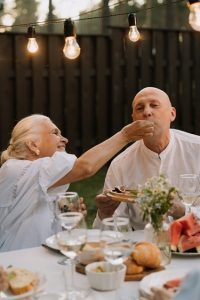 Teeth are meant to last for a lifetime, but that's not the case for many adults. Over 35 million Americans have lost all their teeth in one or both arches. 90% of people with no teeth choose dentures to rebuild their smiles. Traditional dentures have been used for generations because they are convenient and effective; however, new research suggests they can affect your nutrition. You don't have to live without teeth to stay healthy. Here's what you need to know to maintain healthy eating habits.
Dentures Can Affect Nutrition
Dentures have an acrylic base that's carefully crafted to fit your mouth like a glove. It will hold prosthetic teeth to restore a complete, beautiful smile. Dentures rest on top of the gums and are held in place with suction. They'll closely look like your real teeth, and you'll get used to wearing them after a few days.
Although dentures are more realistic than ever, they'll never fully feel like your natural teeth. It can be a significant change for many patients, which may cause them to alter their eating habits. They might avoid certain foods because they are too difficult to chew, which can lead to nutritional deficiencies over time.
Researchers reviewed laboratory data from over 10,000 people to look for specific markers for malnutrition. They found that denture wearers suffered a significant decline in nutrition markers over 2 years.
Nutrition can continue to decline as time passes because tooth loss causes the jawbone to shrink. This changes the shape of the mouth, which can cause dentures to fit poorly. Slipping and irritation can lead to more dietary restrictions as eating becomes difficult or painful.
Maintaining a Healthy Diet
Your health doesn't have to suffer if you wear dentures by following a few simple tips:
Take your dentures out at night to give your gums time to rest to prevent inflammation and sores.
Cut your food into small pieces to make them easier to chew.
Visit your dentist regularly to have your dentures adjusted.
Consider using a denture adhesive.
As an alternative to traditional dentures, ask your dentist about adding the stability of dental implants to your smile. Implant posts are surgically placed into the jaw to replicate tooth roots. Your bone will fuse to the implants, providing unmatched support and stability for your denture. You'll never have to worry about slipping or irritation again. You'll regain 70% of your biting force using a solution that looks and feels natural. Not to mention, dental implants have over a 95% success rate and can last for decades to enjoy a long-term investment.
Your dentist will help you choose the best option to support a healthy mouth and body.
About Dr. Mark D. Medaugh
Dr. Medaugh achieved his dental degree at the University of Pennsylvania and has regularly continued his education in advanced services. He is a proud member of the American Dental Association and the Massachusetts Dental Association. If you're ready to replace your missing teeth, contact our office today to request an appointment.
Comments Off on Can Dentures Affect Your Nutrition?
No Comments
No comments yet.
RSS feed for comments on this post.
Sorry, the comment form is closed at this time.