December 30, 2019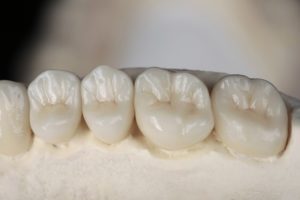 Dental crowns in Belchertown are custom-crafted caps that are built to comfortably fit over damaged teeth to repair their structure and function. You'll be glad that you restored your tooth when you're able to chew your food and speak without experiencing any discomfort. With the proper care and maintenance, you'll be able to enjoy your restoration for longer, keeping you from needing to schedule any unexpected or additional visits with your emergency dentist. Read on for some tips and tricks on how to take the best care of your dental crown.
How Long Do Crowns Last?
Depending on the location of your dental crown and the material it's made from, the average lifespan is between five and 15 years. How long it lasts depends on the amount of wear-and-tear it endures and whether you follow your dentist's aftercare instructions on how to take care of it. Additionally, porcelain crowns don't just offer aesthetic benefits, but they're also incredibly strong and durable. Crowns that are placed on teeth that are regularly used everyday while chewing food or speaking also tend to weaken and wear down faster.
Signs That Your Crown Needs to be Replaced
The amount of wear-and-tear on your crown depends on several factors, but it's important to note that they aren't made to be indestructible, and you should always keep an eye out for signs that it may be time to get a new one.
If your crown is chipped, cracked, or broken in any way, allowing it to stay on your damaged tooth will only leave that tooth vulnerable to developing additional damage underneath. Although your crown is made of dental porcelain or ceramic and won't be able to decay, cavities can still develop underneath them without the proper dental hygiene.
If your bite doesn't feel right, or the crown doesn't comfortably fit in your mouth, don't be embarrassed to address the issue with your dentist. A poorly made restoration will most likely fail sooner than a well-made one. In fact, this is one of the most common reasons that patients need their crowns replaced.
Tips to Extend the Lifespan of Your Crown
When you follow these tips to take care of your crown, you can get the most out of it and reduce your need for additional visits with your dentist:
Avoid bad habits such as nail-biting and chewing on hard objects such as ice and the tips of pens. This will only increase the chances of your crown breaking.
Practice good dental hygiene by brushing twice each day and flossing every day.
Treat conditions like bruxism, or teeth grinding and clenching, to keep your crown from breaking and wearing down faster.
Visit your dentist every six months for a checkup and cleaning.
With routine care, you'll be able to enjoy your dental crown for over 15 years. When you visit your dentist regularly, they can also make any necessary repairs or replacements before a broken or damaged crown puts your natural tooth underneath at risk of becoming severely decayed.
About the Author
Dr. Mark Medaugh studied painting and ceramics before earning his degree in dentistry. He understands the artistry involved in crafting beautiful customized restorations such as crowns. One of his favorite parts of dentistry is working with his patients to help them achieve more beautiful and fully functioning smiles by working with the highest quality of materials and most meticulous dental laboratories. For questions or to schedule a consultation to be fitted for a dental crown or restoration, visit Valley Dentists of Belchertown's website or call 413-323-4335.
Comments Off on How Long Will Your Dental Crown Last?
No Comments
No comments yet.
RSS feed for comments on this post.
Sorry, the comment form is closed at this time.