June 17, 2020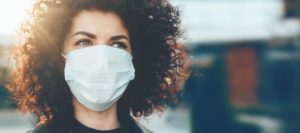 As more studies about the current COVID-19 pandemic are conducted, researchers are discovering that many cases present very few or no symptoms. This means that you may be sick and contagious with the coronavirus while still feeling healthy. Wearing a face mask can help stop the rampant spread of germs from asymptomatic carriers, but only if worn correctly. Your Belchertown dentist shares how to properly wear a face mask and keep those around you safe in the COVID-19 pandemic.
How Do Face Masks Protect Against COVID-19?
Since face masks don't form an airtight seal with the wearer's face, they cannot adequately protect against coronavirus-infected airborne particles that are spread through sneezing, coughing, or talking. However, they can help block the transmission of COVID-19 through larger droplets or sprays of body fluid, like saliva. Additionally, they can serve as an important reminder to the wearer not to touch their face, thereby lowering the risk of transferring infected particles to the eyes, nose, or more.
Most importantly, a properly worn face mask reduces the spread of germs from the wearer. Remember, you can easily have COVID-19 and not be aware of it. You may be infecting everyone around you even if you feel healthy. That's why it's crucial that everyone wear a face mask, whether they feel sick or not.
The Right Way to Wear a Face Mask
A face mask can only prevent the spread of COVID-19 if worn properly. Follow these steps to put one on correctly:
Wash your hands with soap and water for 20-30 seconds before touching the mask.
Pick up the mask by its ear loops, elastic bands, or strings. Be careful not to touch any other part of the mask.
Position the mask over your face. Ensure that you consistently face the blue side or "outer layer" away from your mouth.
Attach the mask to your head via the loops, elastics, or strings. If your mask has a bendable metal strip above the nose, mold it to your face.
Check to make sure your face mask is fully covering both your nose and your mouth.
What to Avoid When Wearing a Mask
Since there may be infected particles on your face mask or hands, it's essential to keep these precautions in mind while wearing one:
Don't touch the mask once it's in place.
If you do touch it, wash your hands directly afterwards.
Keep your mask around both your nose and mouth at all times.
Don't let the mask dangle from your neck or one ear.
Always wash your hands before taking off your mask.
Remember, the best way to stop the spread of COVID-19 is to practice social distancing. However, if you plan on visiting a public area, keep yourself and others as safe as possible by wearing a face mask correctly.
About the Practice
At Valley Dentists of Belchertown, nothing is more important than the wellbeing of our patients, staff, and community. Our highly experienced dentists have been monitoring the COVID-19 pandemic closely and highly encourage everyone to practice social distancing, regularly wash their hands, and to wear a mask in public areas. They are taking a variety of steps to keep you safe if you need to visit them for emergency dental care. To learn more, please contact them via their website or at (413) 323-4335.
Comments Off on How to Correctly Wear a Face Mask
No Comments
No comments yet.
RSS feed for comments on this post.
Sorry, the comment form is closed at this time.