August 17, 2020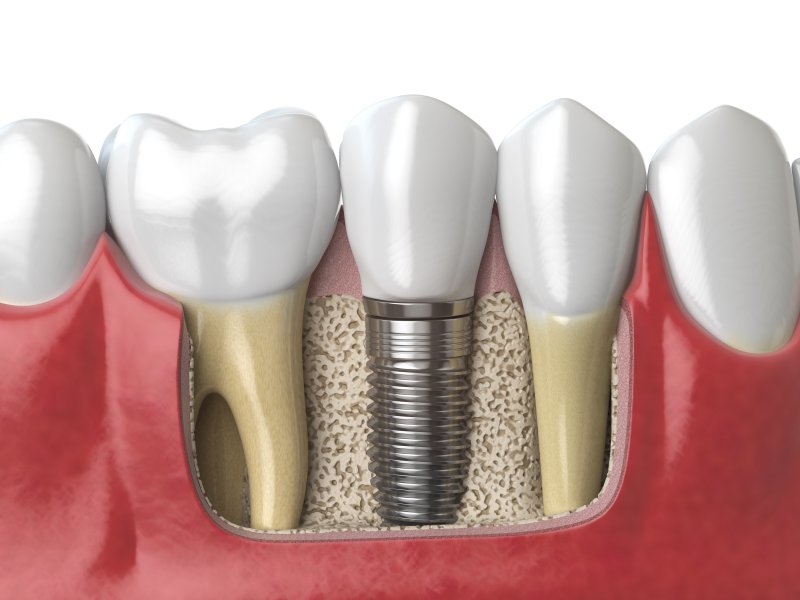 Dental implants are a great way to restore your smile if you're missing teeth. They are becoming increasingly popular because of their many benefits. They restore almost all of your chewing power and preserve the integrity of your jawbone. However, you can't just walk right out of surgery and start consuming everything you want. Before you can experience all the wonderful benefits of implants, you must allow them to heal. Here is everything you need to know about dental implant aftercare.
Day One After Dental Implant Surgery
You need to be especially careful with the surgical sight for the first day after the procedure. It should be left completely undisturbed so the healing process can commence. You need to avoid rinsing, spitting, or touching the wound. It is normal to see some bleeding and redness in the saliva at this time. If the site is bleeding a lot, place a gauze pad directly on the wound and bite down for 30 minutes. This should make it subside. For swelling, wrap an ice bag in cloth and place it on the cheek on the side of your new implant.
Once you notice that the local anesthesia is wearing off, you should start taking pain medication. For severe pain, take the medication that your dentist prescribed as directed. Ibuprofen and acetaminophen are great over the counter options. Remember to take as instructed.
Caring for the Surgical Site
You are especially vulnerable to infections at this time which is a common reason that dental implants fail. You will need to keep the area clean with your normal oral hygiene routine however, you should avoid the area around your new implant. After 48 hours, you should be rinsing your mouth with a warm glass of water containing a teaspoon of salt after meals. This will help to wash away food debris and prevent infection in the mouth. Be careful not to rinse too vigorously.
Eating After Dental Implant Surgery
Once the implants completely heal, you will be able to have all of your favorite foods again. But until then, you should be taking it easy. Only consume liquid or soft foods for the first day after surgery. Chew on the opposite side of your mouth as the new implant. Avoid hot foods and beverages for at least a week after your surgery. Continue eating soft foods until you don't feel post-operative symptoms anymore.
What Else Do You Need to Know?
Keep the following things in mind as you are caring for your implants after surgery:
Stay hydrated
Get plenty of sleep (8 hours every night)
Do not smoke for at least two months following your procedure
Abstain from alcoholic beverages for at least 72 hours after surgery
Schedule a follow up visit with your dentist to check on progress
By being extra thorough about your aftercare now, you will be able to experience the benefits of a beautiful, fully functional smile in just a matter of time!
About the Author
Dr. Mark D. Medaugh offers several different tooth replacement options, including dental implants, at his practice in Belchertown, MA. He earned his DDS from the University of Pennsylvania as a Pierre Fauchard Scholar and is a member of both the American Dental Association and the Massachusetts Dental Association. For more information on dental implants or to schedule a consultation, visit his website or call (413) 323-4335.
Comments Off on How to Take Care of Dental Implants After Surgery
No Comments
No comments yet.
RSS feed for comments on this post.
Sorry, the comment form is closed at this time.