May 18, 2020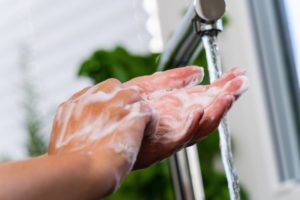 Keeping your hands clean is an important part of protecting yourself from COVID-19. Excellent hand hygiene has always been especially important in a dentist's line of work since their hands come in such close proximity to all their patients' mouths. Now more than ever, dental professionals are taking numerous steps to clean their hands thoroughly throughout the day to keep themselves and their patients safe. Here's how your Belchertown dentist and his team keep their hands germ-free so you can get the treatment you need safely during COVID-19.
Regular Handwashing
According to mothers around the world as well as the Centers for Disease Control and Prevention, regular handwashing is one of the best ways to prevent the spread of germs. However, it's only effective if done often and correctly. To keep the entire practice clean and healthy, your dental team continues to diligently wash their hands:
Before putting on gloves and right after taking them off.
Before and after treating each patient.
After handling any used equipment.
Disposable Gloves
Many people have begun regularly wearing gloves in public in response to the pandemic. However, gloves themselves do not protect you from the coronavirus. Gloves act as a barrier between your hands and whatever germs you may come in contact with, but touching your face with these gloved hands can easily transmit the contaminated particles to your mouth, nose, or eyes. Dentists wear a new pair of gloves before treating each patient to protect both the patient and themselves from each other's potentially infectious germs. Then, before leaving the examination room, your dentist throws these gloves away, washes their hands, and puts on another new, clean pair of gloves before treating the next patient.
Personal Hygiene Standards
Your dental team does more than practice routine handwashing and glove replacement to keep their hands as clean as possible. They also follow a set of personal hygiene standards to prevent any accumulation of bacteria, including:
Keeping short hair or hair that is worn up.
Maintaining short and clean fingernails and never wearing artificial fingernails.
Not wearing any hand jewelry like rings, bracelets, or watches.
Hand hygiene is an essential part of infection control, especially in a dental office. If you need to come into the office for urgent dental care, you can rest assured that the health of your smile is in good, clean hands.
About the Author
To keep his patients, staff, and the entire community of Belchertown safe, Dr. Mark Medaugh has made the difficult decision to temporarily close his practice. However, he and his team are continuing to provide emergency dental care. To ensure you get the excellent treatment you need as safely as possible, he is adding several extra steps to their already rigorous sanitation and infection control protocols. If you need emergency care, don't hesitate to contact him via his website or at (413) 323-4335.
Comments Off on How Your Dental Team Keeps Their Hands Clean During COVID-19
No Comments
No comments yet.
RSS feed for comments on this post.
Sorry, the comment form is closed at this time.