February 23, 2017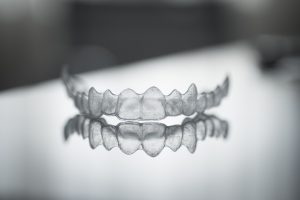 Living with crooked and misaligned teeth often causes you to hide your smile because you lack confidence. Not to mention, your oral hygiene suffers because misaligned teeth are more difficult to clean. You have probably considered braces in the past to restore your self-esteem, but the thought of a lengthy treatment using metal braces only further hurts how you feel about your teeth. You need a more sophisticated approach. Now, you can get the straight smile you have always wanted without wires and brackets. With Invisalign in Belchertown, you have the clear choice for a straight smile.

What is Invisalign?
Invisalign is far different than traditional braces because no metal wires or brackets are used. Instead, impressions of your teeth are taken to create a series of aligners. The aligners are clear, allowing them to be virtually undetectable. Not to mention, they are smooth and offer a custom-fit for a more comfortable treatment.
Using this FDA-approved treatment, you will wear the aligners over your teeth for about 22 hours per day. You will only remove the aligners for eating, drinking, or cleaning your teeth and the aligners. You wear each aligner in the series for about two weeks. As you progress through each one, your teeth will gradually move into their correct positions. You can even switch to the next aligner in the series right from your own home because you do not need to come in for adjustments. But, we will still need to monitor the progression of your treatment with a checkup every few weeks.
In about a year, you will finish the series of aligners. You will now have a straight, healthy smile with results that last.
What are the Benefits of Invisalign?
When compared to traditional braces, Invisalign offers exceptional benefits. In addition to being nearly invisible, the smooth aligners create added comfort. There is no irritation from wires and brackets. Since the aligners are removable, you will not have dietary restrictions. However, you should not eat or drink anything but water while wearing them. The easy removal of the aligners makes oral hygiene easy as well.
During your treatment, you enjoy added convenience with less trips to our office. Overall, treatment is quicker and more convenient to get the flawless smile you have always wanted.
How Can I Get Invisalign?
If you are ready for a straight smile, now is the time to schedule your consultation with Valley Dentists of Belchertown. While Invisalign is effective, it is not right for everyone. You will need a consultation to ensure you are a candidate for the clear aligners. We will examine your teeth and bite to create a comprehensive treatment plan. Impressions of your teeth are taken to send to the dental lab to create your aligners. After your aligners are sent into our office in a couple of weeks, you will start your journey to a straight smile.
Stop living with an unconfident, crooked smile. Get the beautiful straight smile you have always wanted with Valley Dentists of Belchertown today.
Comments Off on Get a Confident Smile with Invisalign in Belchertown
No Comments
No comments yet.
RSS feed for comments on this post.
Sorry, the comment form is closed at this time.