August 24, 2016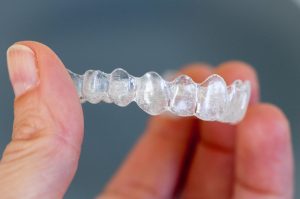 For those who have always wanted a straight smile but never wanted to deal with the appearance or discomfort of traditional braces, you now have a better option. Invisalign has quickly become the preferred choice for orthodontic care. Instead of using noticeable wires and brackets, clear plastic aligner trays are used, offering a more discreet treatment. In less time and with less discomfort, you will have the straight smile you have always wanted with Invisalign in Belchertown.

How Does Invisalign Work?
Invisalign is a revolutionary orthodontic treatment that moves the teeth into their correct alignment without the use of metal wires or brackets. Instead, custom-made clear aligner trays are created, which are worn over the teeth. The trays are created in a series, with each tray worn for about 2 weeks. On average, it takes about 12 months to progress through each tray in the series for a new, straight smile. At the end of treatment, you will need a retainer to prevent the teeth from moving back into their prior positions.
What are the Benefits of Invisalign?
The most preferred benefit of Invisalign is the fact the treatment is nearly invisible. Not to mention, treatment time is generally shorter with less hassle than those of metal braces. You will not have any food restrictions because the trays are removable. This also makes oral hygiene easier. Since metal wires and brackets are not used, there is no irritation to the lips or cheeks. Treatment is also more convenient because you do not have to visit the dentist for adjustments. You only need to come in about every 4 weeks to monitor the progression of the treatment.
Is Invisalign Right for Me?
Although Invisalign is effective for treating tooth alignment problems, it is not right for everyone. You will need to undergo a consultation by Dr. Mark D. Medaugh to determine if you are a candidate for Invisalign. Invisalign cannot be used for those who have teeth that are rotated by more than 20 degrees or teeth that are tipped more than 45 degrees. In addition, those who have overall tooth spacing that accumulates to more than 6mm cannot get Invisalign. If you have bite issues, such as deep overbites or poor bites caused from skeletal issues, Invisalign isn't the right option.
In some cases, the shape of your teeth may prevent you from getting Invisalign as well. If your teeth are shorter than average, Invisalign may not be the best option. Certain restorations may also make Invisalign unsuitable for your needs.
Your Dentist for Invisalign in Belchertown
As a cosmetic dentist in Belchertown for Invisalign, Dr. Medaugh will perform the consultation necessary to determine if Invisalign is right for you. If you are a candidate for Invisalign, he will provide the appropriate treatment plan that best meets your needs. If you are not a candidate for Invisalign, he will offer guidance to find the most appropriate treatment to meet your needs.
If you are ready for a straight smile, it is time to consider Invisalign in Belchertown.
Comments Off on Is Invisalign in Belchertown Right for You?
No Comments
No comments yet.
RSS feed for comments on this post.
Sorry, the comment form is closed at this time.