March 4, 2022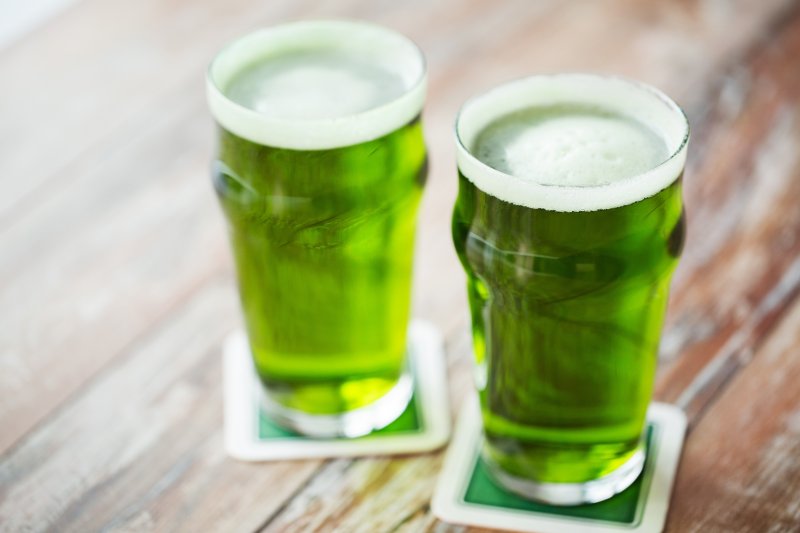 Are you eager for St. Paddy's Day to come around this year? Now that March is in bloom, this special holiday will be here before you know it. It's the perfect excuse to get together with your friends and family to enjoy a good time over a couple drinks. However, we can't avoid the fact that it may not be the best day of year for your teeth. Continue reading to learn about some tips that can help you have fun on St. Patrick's Day without inducing a dental emergency.
Avoid the Green Beer
Whenever you head to a bar or pub in the United States on St. Paddy's Day, it's difficult to ignore all the light beers with a few drops of green food coloring. While it may seem like a fun way to celebrate the holiday, lingering discoloration on your teeth is not so pleasant. No one wants to go to work the next day with green-tinted teeth.
Go Easy on Stouts
For many, St. Patrick's Day isn't complete without a perfectly poured stout. This beverage contains roasted malts and barley to create that full-bodied flavor. It may make the beer delicious, but the dark color can also rub off on your teeth. When you have an occasional stout, it shouldn't do too much damage, but if you're drinking them regularly, you can expect some stains in the future.
Check the Acidity of Your Beer
When compared to water, beer is pretty acidic. Generally, it is found at about a 4 on the pH scale. The problem is that acid is terrible for your teeth because it wears away your protective enamel, therefore making it more likely that you will experience cavities and other oral health issues. If you continue to slowly sip on beer for the duration of the night, your teeth won't be appreciating it. Keep in mind that darker malt beers tend to be more acidic than light beers. Sours are typically the most acidic types of beer out there. Brush your teeth thoroughly before going to bed.
Stay Hydrated
A couple drinks doesn't usually hurt, but it's important that you are staying hydrated. Dry mouth is a common negative side effect of consuming alcohol. When you are drinking plenty of water, you can prevent this from occurring.
Don't put your smile at risk this St. Paddy's Day! By using the tips listed above, you can have an enjoyable night without the consequences.
About the Author
Dr. Mark D. Medaugh earned his Doctor of Dental Surgery degree from the University of Pennsylvania as a Pierre Fauchard Scholar. Currently, he is a proud member of the American Dental Association and Massachusetts Dental Association. For more ways to keep your smile healthy or to schedule an appointment at his office in Belchertown, visit his website or call (413) 323-4335.
Comments Off on 4 Tips to Enjoy St. Paddy's Day Without Damaging Your Smile
No Comments
No comments yet.
RSS feed for comments on this post.
Sorry, the comment form is closed at this time.