August 9, 2023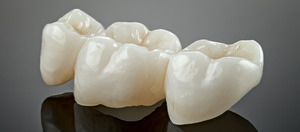 Dental bridges can be essential for patients who have lost teeth, allowing them to enjoy a fuller and healthier smile. However, nothing lasts forever, which means that your dental bridge is going to fail or fall out eventually.
If that's happened to you, don't worry—you aren't the first. There are plenty of things that you can do to handle the situation quickly and easily. Here's what you should do next.
How to Handle a Bridge That Has Fallen Out
The first thing to do if your dental bridge has fallen out is to try and preserve it. Keep it clean and set it aside, as your dentist may be able to put it back in place if it's in good condition. This can be as simple as placing it in a plastic, or in a small container that you won't forget about.
Then, you should call your dentist. They'll likely make you an emergency appointment and try to see you within the same day. If you're calling after hours, leave a message and your dentist will call back the next morning.
What Will Happen at Your Emergency Appointment?
When you bring your dental bridge to your appointment, your dentist will look at both it and your teeth. They will make a call as to whether it's going to be possible for the dental bridge to be replaced, if you'll have to get a new one, or if the natural teeth are going to need further treatment.
Why do Dental Bridges Fall Off?
If your dental bridge has fallen off prematurely, there are a few reasons that could be. For one, it's possible for tooth decay to affect the natural teeth that are under the dental crown. There's still room for bacteria to sneak under your restoration, and if that happens, they may no longer be able to support it.
It may also be the case that your dental crown is sitting improperly in your mouth, meaning that it's receiving undue pressure. If so, you may need to have the dental bridge reworked or repositioned.
About the Author
Dr. Mark Medaugh, or as his patients call him "Dr. M," has dedicated his life to the art of dentistry. There's nothing he loves more than working with patients to give them a healthier, more beautiful smile. Dr. Medaugh received his dental degree from the University of Pennsylvania, where he was admitted as a Pierre Fauchard Scholar. He is a member of the American Dental Association and the Massachusetts Dental Association.
If you have any questions about dental bridges, he can be reached at his website or by phone at (413) 323-4335.
Comments Off on Steps You Need to Take If Your Dental Bridge Falls Out?
No Comments
No comments yet.
RSS feed for comments on this post.
Sorry, the comment form is closed at this time.