December 14, 2016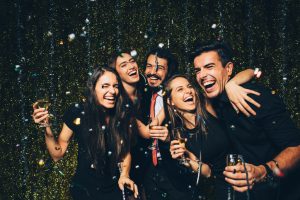 It will be 2017 before you know it. That means time for New Year's resolutions and popping up in a lot of pictures that will quickly be all over social media. You want to go into the new year with confidence, and one of the best ways to do that is by knowing you have a gorgeous smile. Teeth whitening in Belchertown is a simple way you can completely revamp your smile and look your best this new year, and you can get it today from Dr. Mark D. Medaugh at Valley Dentists of Belchertown.

Why Do I Need Teeth Whitening?
Common things like coffee, wine, tobacco, diet, and even genetics can affect the color of your teeth. Many of them have elements that can cause deep stains. Plus, as the years go by, the enamel on your teeth naturally begins to break down, revealing a layer of dentin (which is actually yellow). Your enamel is transparent, meaning that just a small amount of wear can noticeably change their appearance. Teeth whitening is meant to eliminate stains and stop this process in order to restore your teeth back to their original color and brilliance.
How Teeth Whitening Works
Nearly 90% of the people who see Dr. Medaugh want their teeth to be whiter. This is because white teeth are one of the strongest social signifiers in our society, as people with them are often thought of as more attractive, intelligent, and friendly.
We only use Opalescence Teeth Whitening because it is the only take-home treatment that is able to thoroughly break- up both intrinsic and extrinsic stains. The stains on the outside of your teeth are extrinsic, and most store-bought whitening kits can address them. However, they do very little for stains that are in the small, hard to reach crevices of your teeth, which are intrinsic. Opalescence Teeth Whitening easily reaches these deep, ground-in stains, and whiten your teeth at a much deeper level.
The powerful bleaching gel also is able to strengthen your teeth. It contains potassium nitrate and fluoride, which reduces the sensitivity common after teeth whitening. Your teeth will not only look better, but will be healthier as well.
Two easy visits are all we need to provide you with a customized take-home kit. It will contain a mouth tray and the powerful bleaching gel. You just wear the tray with the gel every day for 2 weeks to get the full result. Afterward, simple brushing and flossing, along with the occasional touch-up and check-up with Dr. Medaugh, can see the results last for months.
It's Almost 2017!
Save your New Year's resolution and start improving yourself now. Make this New Year's Eve all about fun and looking forward to the things to come. Start the New Year with a new smile.
If you are looking to dramatically improve the color of your teeth, teeth-whitening at Valley Dentists of Belchertown is the best possible way to do it.  It can help you glide into next year with confidence, so make an appointment with us today!
Comments Off on Be Ready for New Years with Teeth Whitening in Belchertown
No Comments
No comments yet.
RSS feed for comments on this post.
Sorry, the comment form is closed at this time.