June 14, 2021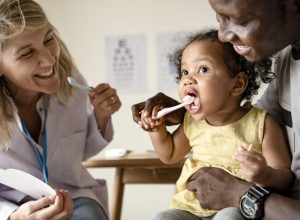 When you first become a parent, it can feel overwhelming, to say the least. You're spending so much time thinking about your little one's eating and sleeping habits that their oral health may have slipped your mind. However, it's important to take good care of your baby's smile, even before their pearly whites begin showing. Read on to learn when you should schedule your child's first dental visit, how to prepare for the appointment, and what to expect once they're in the dental chair.
When Should You First Take Your Child to the Dentist?
Your little one should meet their dentist soon after their first tooth appears, or by the time they turn one year old – whichever comes first. This may seem early, but according to the American Dental Association, it's possible for your baby to get cavities as soon as they have teeth. After all, it's never too early to be proactive about the health of your child's smile!
How to Prepare for Your Child's First Dental Visit
To get your son or daughter ready for their appointment, start talking to them about what's going to happen several days in advance. Have them practice opening their mouth and having you look at their teeth. Read picture books or watch videos of kids' first dental visits to help them feel less nervous.
If possible, avoid scheduling the appointment before or during naptime. Try to pick a time when your child will feel well-rested and cooperative.
On the day of the appointment, make sure your little one has eaten a light meal a couple of hours and has cleaned their teeth beforehand. That way, there won't be any food debris in their mouth to get in the dentist's way during the exam.
What to Expect at the Appointment
After taking some time for introductions, the dentist will examine your child's mouth to make sure their teeth and jaws are developing properly. You'll most likely be sitting in the dental chair with your baby on your lap; this can help them feel more comfortable. Once the exam is over, the dentist will explain their findings to you and talk about any issues they may have seen. Lastly, they'll clean your little one's teeth and answer any questions you may have about caring for their smile between appointments.
Taking your child to the dentist from a young age can establish habits that will help them maintain a healthy smile for life. By creating positive associations with dental visits early on, you can ensure they look forward to seeing their dentist!
About the Author
Dr. Mark D. Medaugh, known to his patients as "Dr. M.," is a family dentist in Belchertown, MA who loves helping young smiles start off on the right foot. He earned his Doctor of Dental Surgery degree from the University of Pennsylvania and is actively involved in the American Dental Association and the Massachusetts Dental Association. At Valley Dentists of Belchertown, he offers many pediatric dental services, including dental sealants and fluoride treatments. To learn more about what to expect at your child's first dental visit, contact his office at (413) 323-4335.
Comments Off on What You Need to Know About Your Child's First Dental Visit
No Comments
No comments yet.
RSS feed for comments on this post.
Sorry, the comment form is closed at this time.