May 30, 2019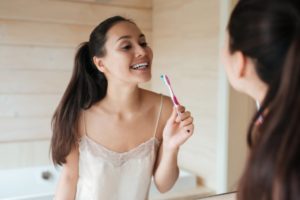 This May is National Save Your Tooth Month, the perfect time to learn what steps to take to maintain a bright and healthy smile for a lifetime! Practicing preventive oral techniques can save you time and money by protecting your mouth from oral health problems like cavities, decay, and gum disease. So, what is preventive dentistry, and how can it help you? By establishing regular oral hygiene routines and getting the treatment you need, you can keep your natural smile in tact. Learn how you can avoid losing your tooth by getting a root canal in Belchertown and protect your mouth from oral issues below.
How Can Preventive Dentistry Help You?
Preventive dentistry is simply proactively caring for your teeth and gums so they remain healthy. This helps avoid common oral issues like gum disease, cavities, and enamel erosion. There are many ways you can keep your mouth healthy. By establishing an oral hygiene routine, you'll save your time and money by taking care of the small problems before they turn into larger ones.
Daily Brushing and Flossing
The American Dental Association (ADA) recommends brushing twice a day for 2 minutes with fluoride toothpaste. Make sure that you choose oral hygiene products that have the ADA seal of approval on them. Also, remember to replace your toothbrush every 3 months to keep bacteria from building up. Don't forget to brush your tongue and floss to help remove harmful odor-causing bacteria and lodged food debris to keep your mouth smelling minty fresh.
Routine Visits With Your Dentist
It's recommended that you visit your dentist every 6 months for a checkup and cleaning. You may not have known, but during this appointment, your dentist in Belchertown inspects for signs of serious illnesses such as oral cancer and gum disease. This allows them to catch problems before they become incurable and harder to treat. If you use tobacco or consume excessive amounts of alcohol, your oral health is especially at risk, so don't put your routine visits on the backburner.
Maintaining A Healthy Diet
You may not have thought that having a nutritious diet could benefit your oral health, but it can! Eating a balanced diet can give your teeth necessary nutrients. By reducing constant snacking and replacing sugary snacks with foods like fibrous vegetables, you can keep your mouth from becoming a bacterial breeding ground. Vitamins aren't just good for your body, they're also good for your oral health!
Don't Put Off Necessary Treatment
Sometimes, oral problems can't be prevented. This could be because of genetics, medications, or just a weakened immune system. If you find yourself dealing with oral decay, infections, or other problems, it's vital for you to get recommended treatment so you can save your smile. Although a treatment like root canal therapy may sound painful and daunting, you'll be pleased to know that's not the case at all! By getting these treatments, not only will they cure your pain, but they'll also help you avoid more invasive procedures such as tooth extraction.
This National Save Your Tooth Month is the perfect time to learn the best ways to preserve your bright and healthy smile and avoid future complications! By practicing preventive dentistry, you can prevent and lessen the effects of common oral problems like cavities. You won't regret investing time and effort into your smile when it lasts you a lifetime!
About the Author
Dr. Mark Medaugh earned his DDS from the University of Pennsylvania as a Pierre Fauchard Scholar. He enjoys creating long-lasting connections with his patients and understanding their needs so he can provide them with the best treatment. He uses the highest quality materials and labs to give his patients beautiful and functioning smiles. For any questions or to schedule a routine checkup and cleaning, visit Valley Dentists of Belchertown's website or contact 413-323-4335.
Comments Off on You Can Protect Your Mouth From Future Problems By Getting A Root Canal In Belchertown
No Comments
No comments yet.
RSS feed for comments on this post.
Sorry, the comment form is closed at this time.